TI/BDS Covid-19 safety measures as of November 26, 2021
The Covid-19 pandemic has affected our lives and our education. Below you find the policy for education in the Business Data Science program as of November 26, 2021
On November 26, the Dutch government has imposed stricter measures in response to the rising number of Covid-19 infections. Stay updated of the current Covid-19 measures here. The Government is urging all small programs to keep on providing on-campus education, also as a way to mitigate the heavy mental health issues caused by the pandemic. Universities remain open with few restrictions. For educational activities (classes) the social distancing does not apply.
For students in the Business Data Scicene program, class attendance is compulsory. However, students with Covid-19 related symptoms, a positive test outcome (or waiting for a test outcome), and/or who have been in close contact with an infected person, can not come to the campus and can ask their DGS for approval to attend the class online.
Some teachers may, for personal health-related reasons, want to impose stricter conditions on students in case the class is small/crowded. Please respect this.
In the exam week (December 13-17) we plan to have the exams on location in Amsterdam or Rotterdam and will offer online/blended examination if needed.
Vaccination and (self) test
Vaccination is easy to arrange. At the GGD you can get a corona vaccine for free at many locations, often even without an appointment. We urge students to take self-tests twice a week (available for free through https://www.zelftestonderwijs.nl/). Locations to get an official PCR test (often without prior appointment) in Amsterdam can be found here; locations in the Rotterdam area can be found here.
General safety measures on campus
Wear a face mask while on the move
Wash your hands regularly
If you have symptoms or a positive outcome of a self test: stay at home and get yourself tested in a GGD test center
Keep 1.5 m distance where possible
Note that our plans are based on the current and projected number of infections in the Netherlands. In case the situation changes, we share with you our plans in this figure below: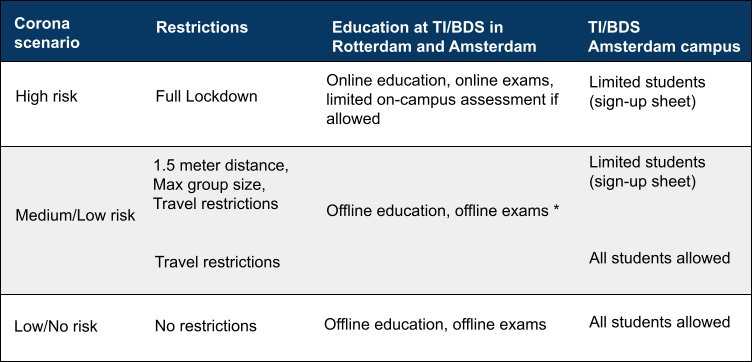 *If a student cannot travel to campus for Corona-related issues (e.g., international travel bans, quarantine), we will guarantee her/him access to education by live streaming our lectures and by providing the possibility to take online examinations.
Date: November 29, 2021