TI/BDS Covid-19 safety measures at the start of the academic year 2021-2022
The Covid-19 pandemic has affected our lives and our education. Below you find the safety measures at the start of the academic year 2021-2022.
1.5 m social distancing applies everywhere until August 30; starting on August 30, during classes and only during classes, the 1.5 m social distancing no longer applies for students while seated in the class room;
It is mandatory to wear a face mask on campus and at TI/BDS while on the move inside the building;
We urge students to take self-tests once or twice a week (available for free through https://www.zelftestonderwijs.nl/). We will have some free test kits available during the introduction day;
Starting August 30, the basic rule of our AER will be in effect: attendance at lectures in the class room is mandatory. However, following a positive test and/or having Covid-19 related symptoms: do not come to the class and call in sick before the start of the class (email your teacher, courses@tinbergen.nl and your DGS). Follow the instructions of the GGD (read here) and RIVM (read here); If you have been in close contact with an infected person and have not been vaccinated, also call in sick;
Lectures will be live-streamed for students who cannot attend the lectures on campus due to Covid-related issues;
Use of offices: you need to register first for a time slot;
Avoid large gathering of students during breaks and before and after classes.
Note that our plans are based on the current and projected number of infections in the Netherlands. In case the situation changes, we share with you our plans in this figure below: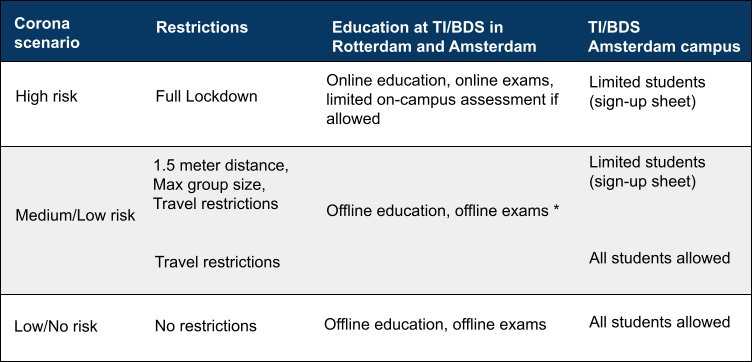 *If a student cannot travel to campus for Corona-related issues (e.g., international travel bans, quarantine), we will guarantee her/him access to education by live streaming our lectures and by providing the possibility to take online examinations.
Date: August 20, 2021