Looking ahead: Education in the academic year 2021-2022 at TI/BDS
The Covid-19 pandemic has affected our lives and our education. For the next academic year, we aim to go back to on-campus education.* While we may occasionally provide online education, most of our activities will take place offline in line with the health and safety regulations provided by the Dutch Government.
We look forward to seeing you in our classes and we remind you to plan your trip (back) to the Netherlands at least ten days before the classes are set to start (for possible quarantine, but also to handle practical things).
Note that our plans are based on the current and projected number of infections in the Netherlands. In case the situation changes, we share with you our plans in this figure below: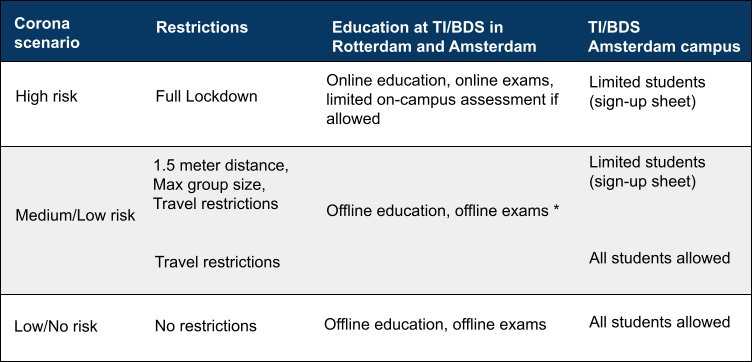 * If a student cannot travel to campus for Corona-related issues (e.g., international travel bans, quarantine), we will guarantee her/him access to education by live streaming our lectures and by providing the possibility to take online examinations.
Note: our scheduling will take into account possible traveling restrictions during peak hours.
Date: July 12, 2021