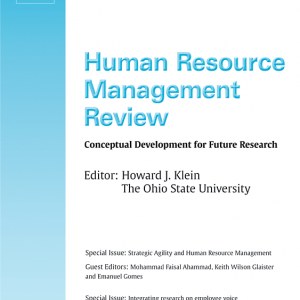 Markoulli, M., Lee, C., Byington, E. and Felps, W. (2017). Mapping human resource management: Reviewing the field and charting future directions Human Resource Management Review, 27(3):367--396.
---
Affiliated author

Publication year

2017
Journal

Human Resource Management Review
Using recent advances in science mapping, this article systematically reviews the Human Resource Management (HRM) field. We analyze 12,157 HRM research articles published over 23 years to reveal the topic content and intellectual structure of HRM scholarship. A downloadable, searchable HRM topic map is provided (http://bit.ly/HR-Map) that reveals: a) 1702 HRM article topics, b) the number of articles on each topic, c) topic relations, trends, and impact, and d) five major HRM topic clusters. We discuss the overall intellectual structure of HRM scholarship and review the five topic clusters. Next, the topic content of HRM scholarship is compared to that of 6114 articles from the practitioner-oriented outlet HR Magazine. We identify 100 topics emphasized to a much greater degree in the practitioner-oriented literature. Seven key themes for future research that could help align HRM scholarship with the interests of HR practitioners are identified and discussed.